Horodoker Relief Association
Beth El, Paramus, NJ
Dora and Carl Karben, Jack Rubenstein and his wife, Helen; Minnie Cohen Gelman and Lou Gelman; Aaron Gelman and Julius Gelman; Herman Hausman; Lena Cohen and Rafael Miller; Esther Miller and Irving Maslick; Hyman Aaron Miller; Dorothy Levine Schwartz.

The Uberstine & Caine Plot
Nathan Uberstine; Lena Uberstine Caine; Meyer Caine; Dave Schoenfeld.

Horodoker Relief Association
Beth David, Elmont, L.I.
Gate erected in 1929.
Ethel Uberstein and husband Harry Varonok (click here for photos). Barnet Cohen and Rose Wilkofsky Cohen (click here for photos).

Wolozin Landsmanshaftn
Ida Uberstine and Harris (Itka) Farberman (click here for photos).
Sam Faberman and Betty Friedman; Larry Isaacson.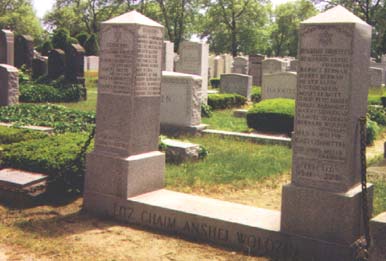 Chaim Anshel Wolozin Gate, Beth David, Queens, NY
United Bessarabier Verein
Esther Faberman Dick and Fannie Faberman Block.

Workmen's Circle
Mt. Lebanon, Queens, NY
Sam Deitch, Fanny Pollack Deitch Gold (click here for story)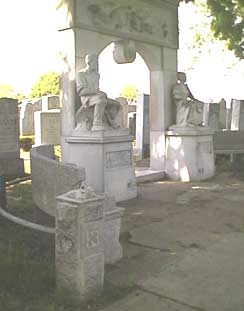 Workmen's Circle Gate, Mt. Lebanon, Queens, NY

Mt. Lebanon, Iselin, NJ
Sidney Rubenstein, Bea Glazer Rubenstein, Ruth Rubenstein Sandman

Mt. Moriah, Fairview, NJ
Esther Simon Rubenstein Seiser, Arthur Rogers, Sam Rubenstein and his wife, Yetta Kornbluh

King Solomon, Clifton, NJ
Esther Kirshner and her husband, Leonid Chasman; their children, Randolph Chasman, Sidney Chasman, and Ethel Chasman Lublang; and Michael Chasman, son of Randolph Chasman

Independent Benevolent Society Cemetery, Albany, NY
Cherla Uberstine Glockner and her husband, Nathan Glockner; their children, Dora Glockner Finn and her husband, Sam Finn; and Maurice Glockner and his wife, Vivian Rosenthal

Star of David, Ft. Lauderdale, FL
Arthur (Artie) Karben

Warrensville Road Cemetery, Cleveland, OH
The Uberstines of Cleveland: Harris Uberstine and his wife, Etta Meltzer; their children: Louis Uberstine, Max Uberstine, Alice Uberstine Sorkin, and Florence Uberstine Jacobs

Highland Cemetery, Highland Township, MI
Tess Deitch Rogers

Oak Hill Memorial Park, San Jose, CA
Esther Kirshner Kay and her husband, Rubin Kay

Mt. Sinai, Burbank, CA
Dawn Kroner Glatt; Heather Inlander Chasman, (widow of Michael Chasman) moved there by her two California-based children, Lynn Chasman Amster of Northridge, CA, and Marc Chasman of Sherman Oaks, CA

Eden Memorial Park, Los Angeles, CA
Gussie Berkowitz Uberstine (wife of Abe Uberstine) of Tarzana, CA

For a pamphlet with directions
Telephone William Rosen Monuments, Inc. at (718) 951-6900; or fax (718) 252-9300.

For an on-line map


A map that can be downloaded (200K) is provided by the Sprung Monument Corp. The map, which it claims is not complete, does include many cemeteries used by our family. See the NYC Jewish Genealogical Society web page -- http://members.aol.com/jgsny/cemeteries.htm.