The first dance, at the Park Lane Villa Hotel.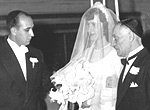 "Father had suggested we elope to avoid this part."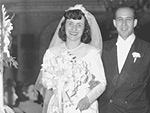 Moments later: Here come Mr. and Mrs. Philip Lavine.
On June 15, 1946, Lois Sless married Phillip Lavine. The couple honeymooned in Williamsburg, Virginia.

In celebration of their 55th anniversary in 2001, they returned to the site of their first honeymoon for a second.

They make their home in Beachwood, a suburb of Cleveland, Ohio. The Lavines are the
parents of Michael, Amy, Lauren (deceased) and Missy (deceased).