Meyer was a charter member of synagogue
This photo of Meyer Gelman and his nephew, Joe Erber, in their orthodox synagogue in Greenwood, was taken by California photographer Bill Aron as part of a survey of Jewish life in the American South, and it has been celebrated in publications and exhibitions all over the world. We are grateful to Stephen Gelman, Meyer's son, for bringing it to our attention, and to his wife, Barbara, for sending it to us.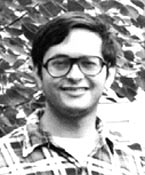 Stephen Gelman in 1985
Why Mississippi?
Ike Gelman and his wife, Sophie Davidson Gelman, were already the parents of two daughters -- Ida Mary and Nancy -- by the time they decided to emigrate to America. Two of Sophie's brothers were already settled in Mississippi, so it seemed logical to join them there. Ike and Sophie went on to have four more children in Mississippi: Jonas, Esther, Freida and Meyer.
Their youngest child, Meyer, was only four years older than their oldest grandchild, Marvin Fink, who turned 77 years old in February, 1999. "Meyer and I grew up more like brothers than uncle and nephew," the internet and web-savvy Fink said in a May, 1999 E-mail, explaining just why Ike had chosen Mississippi.
Synagogue was central
Ike Gelman was one of the early members of Greenwood's Ahavath Rayim Congregation, established in 1897. He was also involved in the building of the present synagogue finished in 1923.
About 130 families belonged to the synagogue in the 1950's, according to Joe Erber, who grew up as a member of the congregation and now officiates as a lay rabbi in these times when a minion is hard to come by. The Gelman clan of Mississippi centered for many years in the Greenwood area, and filled many seats in the Ahavath Rayim Synagogue. My guess is there were dozens of Gelman and Davidson descendants there.

Traveled thirty miles to attend
Ina Margaret Goldberg Fried, who graduated from high school in the mid-1960's, just last month wrote in an E-mail that her husband, Aaron Fried, grew up in Indianola, Mississippi. It was "about 30 miles from Greenwood but he attended Ahavath Rayim Synagogue in Greenwood," she wrote.
A two-minute walk to synagogue
Meyer's older daughter, Norma Gelman Sarvis, moved to live and work in Israel in 1990. In a June, 1999, E-mail from Israel, she wrote, "The [Ahavath Rayim] synagogue was a two-minute walk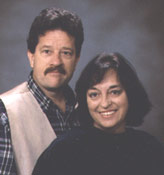 Martin Sarvis and Norma Gelman Sarvis
from our house, so we were always there, at least until high school days." Norma and her husband, Martin Sarvis, very much enjoy their life in Israel. "We live not far from the Mediterranean...we just like it here," she said.
Ready for intensive Hebrew
The solid Jewish education Norma received at the synagogue in Greenwood surely factored into her later enthusiasm and readiness to take advantage of the free Hebrew schooling offered new immigrants in Israel. She was "entitled" to study "5 days a week 5 hours a day...for 5 months," she wrote. The orthodox life was a strong molding force right up through the mid-1960's, when Ina Margaret and Norma graduated from high school.
The traveling rabbi
When Marilyn Gelman, Meyer's youngest daughter, attended Sunday School in the mid-1970's, the rabbi would drive 125 miles from his home in Memphis in a car that didn't always make it. "When the rabbi didn't show up, we figured he'd had car trouble," Marilyn said, "and then we'd leave."
Decline since heyday in the 1950's
By the late 1960's, a fulltime rabbi was a thing of the past. Instead, a rabbi was engaged for the High Holy Days and to teach a small Sunday school class, where tutoring the upcoming Bar Mitzvah boys was actually his focus. "It was all geared to the males; he wasn't much on the girls," said Marilyn, who wanted to learn and kept her ears open. "I picked up a lot listening to him working with the Bar Mitzvah boys," she said.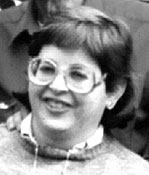 Marilyn Gelman in 1985
Vicksberg closed first
In the early 1970's, the synagogue in Vicksberg, Mississippi, closed its doors, causing concern about what was to become of its ark, which became the first object saved in a collection of Jewish artifacts rescued from closing synagogues in the south. In 1991, the orthodox synagogue in Meridian, Mississippi, shut its doors for the last time.
Concern leads to museum
Assimilation and the exodus of young families to the big cities has continued to force the closing of synagogues throughout the south. Concern for the preservation of their ceremonial objects and other artifacts, archives and property, led to the opening in 1989 of the Museum of the Southern Jewish Experience in Utica, Mississippi.
Gelman photos in permanent collection
Bill Aron's photo of Joe Erber and Meyer Gelman, which is part of the permanent collection of the Museum, has been widely published and highly acclaimed. In a letter to Joe Erber in 1990, Museum project director Vicki Fox wrote, "The photograph of the two of you continues to be one of the favorites of everyone who sees the exhibit."