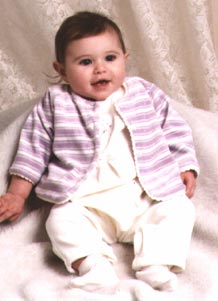 Born June 17, 1998. "She crawls all over the house and makes babbling sounds," said Rachel's mother, Debra Allen.
"At meals, she makes noises whenever we take a mouthful, because she wants to eat what we eat. And then she laughs, to let us know that she knows that we know she's playing with us."
Rachel, the daughter of Stuart and Debra Allen, is the granddaughter of Ruth Rubenstein Sandman and David Sandman; the great granddaughter of Bea and Sidney Rubenstein, and the great great granddaughter of Esther Simon and Morris Rubenstein. She is a great great great granddaughter of Hirschel and Rivka Uberstein, and a great great great great -- also written 4G -- granddaughter of Usher Uberstein.