Ethel Rubenstein Varonok's great-great grandson, Matt Goldstein, became an Eagle Scout in May, 2002. Three months later, he left home to take his place in the class of 2006 at Brandeis.
Only two to three percent of all Boy Scouts attain the Eagle rank, according to Matt's mother, Jan Goldstein. His father, Howard Goldstein, earned his Eagle Scout status in 1971. For him, the big attraction was the camping trips, "every other month during the year, and summers at Ten-mile-river Scout Camp," he said.
Kayak guy
Being on the water was the highpoint of Matt's last camping trip. After that June 2002 outing, which featured kayaking, he
wrote, "...the rivers and lakes were running very high, so we had little trouble in our kayaks." They rowed from 8 a.m. to noon. "Then," said Matt, "we went on a hike."
Photo top right: Matt at Columbia University, during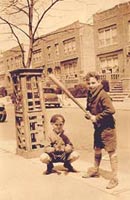 the summer of 2001, when he was in a course on the history of power in the American presidency.

At bat: Howard's uncle, Irving Sollender, with friend, Albert, playing softball on the sidewalk in front of Irving's house at 216 East 91st Street in Brooklyn, NY, where the family lived in the 1930s.

Irving read the benediction at the Eagle Scout ceremony, attended by Matt's extended family as well as friends and the Scout community.

Irving said that he had "tried to join the Boy Scouts, because all my friends belonged." He took a pass when he learned that "they were going to make me a Cub Scout because I was too young." Instead, he concentrated on playing ball with his friends, Albert (the catcher in the photo)
"and Sammy, who lived across the street."
At right, the invitation to the Eagle Scout ceremony, held in Midland Park, NJ, and to the backyard party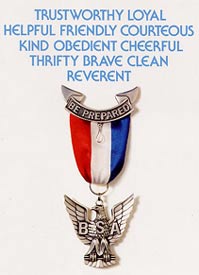 afterwards, where friends and family feasted on a six-foot submarine sandwich.

David Goldstein, Matt's younger brother, is well on his way to attaining Eagle rank, with 15 of the 21 necessary merit badges under his belt, or rather, on his sash. Of the 10 "not required" merit badges, one he "really enjoyed" earning is small boat sailing, and that was "two or three years ago." David, who turned 15 on September 5, is already in the Order of the Arrow, the national honor society of the Boy Scouts.