Gelman descendants climb mountains, scale ice cliffs,
navigate England & Scotland's canals, fly the London 'Eye'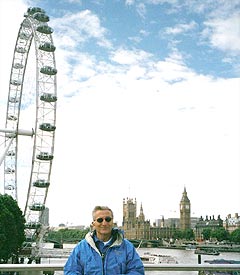 Two sibling grandchildren of Udasha Uberstine Gelman's daughter, Rashka Kirshner, have long distinguished themselves as adventurers, together and then with their partners. Together, Sheldon Kay and his sister, Marilyn Kay Fuselier, scaled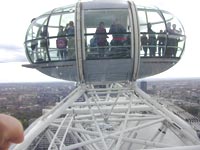 the Flatirons, a famous rock-climbing area near Boulder, Colorado.

At right: Module of 'Eye' in London. Left: Big Ben, Parliament, Eye ferris wheel, the Thames, & Sheldon during the summer of 2002.
At right: Marilyn scaled an ice wall in one of the canyons near Boulder in the early 1970s. "I never did that," said Sheldon. "It's more of a science than an adventure, very technical, like climbing a stepladder. Nothing goes wrong if you do it right."
Marilyn and her husband, Charles, live on a ranch in Montana, where they are raising two llamas for the packing trips they enjoy going on by themselves.

"Llamas are very personable," said Sheldon, who made their acquaintance when visiting his sister. "They gave me a good sniff-over."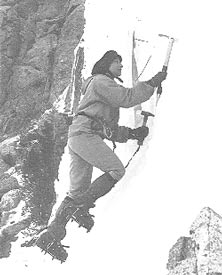 In England last summer, Sheldon and his partner, Lynne Klein Therriault, explored the island's inland waterways, sharing a rented 60-foot boat with a couple who had done this before.

Sheldon, a retired Lockheed engineer who worked on the Hubble telescope, is a 28-year veteran of the Ski Patrol, and has kept in touch with the many friends he made. These include a woman with whom he tried out for ski patrol. She and her husband had long enjoyed month-long canal boat trips. And so it was that Sheldon and Lynne came to spend two weeks afloat the summer of 2002.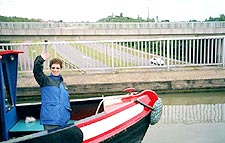 They took turns steering the diesel engine boat, which is seven feet wide. "It has to be very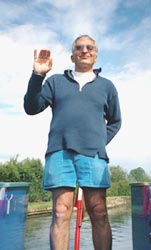 narrow to go through
the locks," Sheldon
said. The boat had two bathrooms, a shower, heat, a galley, and a television on which
they saw the BBC
and "some British
comedies." The dining room doubled as a living room, and there were two bed-
rooms.

So, how was the weather? "Fairly good, only a little rain," said Sheldon.

"It rained about half the time," added Lynne.

Left: Lynne waves on a canal as it passes over a major highway about an hour from London.