The two Shirley Karbens with
Marcie Shapiro of North Adams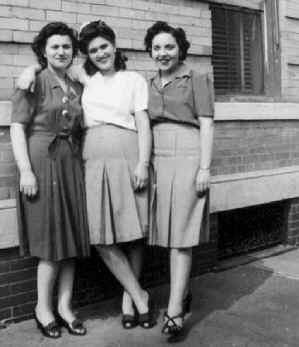 With her arm around Shirley Karben, her new sister-in-law, the newly married Mrs. Arthur Karben -- also named Shirley -- flashes a big smile. To Shirley's Table of Contents, click leaf: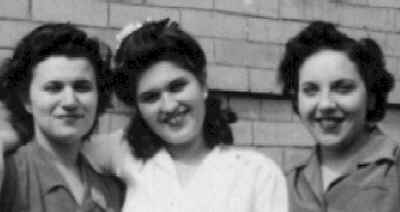 "She's the closest I ever got to a sister,"
said Shirley, who has three brothers.
On this shirtsleeve warm day in 1942, Esther Minnie's younger daughter, Marcie Shapiro (right), was in town from North Adams, Massachusetts. "She and Esther Minnie drove in quite often to see my mother and Uncle Morris," Shirley said.
Esther Minnie, who was the older sister of Dora (Shirley's and Arthur Karben's mother), had welcomed Dora's brood when they came to America. Throughout their school years, the Karben children spent their summers enjoying the rural setting of the Shapiro's home in North Adams, Massachusetts, and, on occasion, Esther Minnie's famous pies.
"Esther Minnie would always arrive in New York with a trunkful of pies," Shirley said. "She knew everyone's favorites."