Remembering Aaron the Fixer
The exchange that Eli Schwartz thinks of when he reflects on his great grandfather Aaron, took place in 1965 at the celebration of the 50th anniversary of a Gorodok landsmanshaftn, which means an association of people from the same town. (One of the founders of the Horodoker Relief Association, as it was known, was Rafael Millerkowski, a brother-in-law of Eli's great grandmother, and the husband of Aaron's oldest child, Lena.)
The big shot
The celebration was a festive evening banquet, which Eli attended with his mother, Dorothy Levine Schwartz, who was a member of the society. After the banquet, an elderly man, who appeared to be in his 80's, was acting like a big shot, and everyone sat in rapt attention.
'Who are you?'
Eli said the man talked about his return to Gorodok in 1923, when Lenin was inviting money. "He said he had established a bank there, and that he was living on Central Park South now." Then, said Eli, the man looked right at him and said, "Who are you?"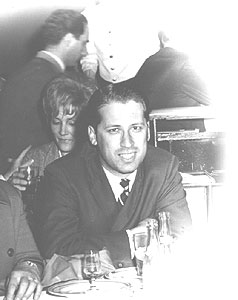 Eli Schwartz, 1965
Pious roofer
Eli replied, "I am the great grandson of Ahron de Cutler," which, loosely translated, meant "Aaron the Fixer." Actually, cutler refers to a person who works with molten copper or other metal, which Aaron, as a roofer repairing or building drain pipes and gutters, most certainly had been.
Respect
The man questioning Eli nodded in response. "He had not worked at a high profession, but people respected him because of his learning, and because he was a religious man," he said.