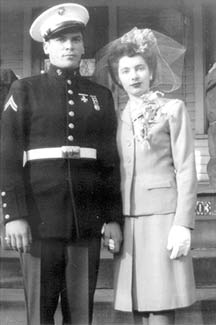 Seymour Kaplan and Marilyn Sless on their wedding day.
By Sanford Kaplan

The story of how my folks met, fell in love and married, explains why there aren't that many photos from which to choose.
My dad was a Marine, and his tour of duty took place in the Pacific theater. When he was stationed in Honolulu, serving as a staff sergeant, his furlough came up. On the way back to New York City to visit his parents, he had a layover in Cleveland. His father had informed him that he had cousins in Cleveland, and had suggested that he consider extending the layover for a few days so he could meet the family. Back in those days, kids actually listened to advice like that.
When dad landed in Cleveland, he phoned his cousins and made arrangements to meet them that evening. That left him with
some time to kill, so he hopped a bus to tour the downtown area.

While on the bus, he spotted a beautiful young girl. He looked at her. She looked at him. It was love at first sight. Unfortunately, she disembarked from the bus after only a few stops. Oh well, that was that.

But it wasn't. Later that evening, he knocked on the door of his cousins' family home, and who should answer, but the girl he had seen on the bus that afternoon! The rest is history.

It was a whirlwind romance and courtship, and before the end of dad's furlough, they were married.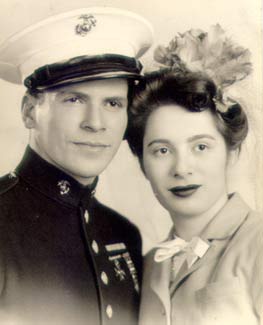 Naturally, there was not much notice, so Lois flew in from New York City and hastily made all the wedding arrangements. There was no time to engage a photographer, so any photos taken were amateur. I do think that the two I sent to you look extremely professional. Unfortunately, Mom does not remember who took them.

As an aside, at the time this transpired, my mom was all of 17 years old and still in her senior year of high school. Back in those days, when you were married, you were done with high school, whether you were done or not. Dad went down to speak to the principal on mom's
behalf, and assured him that he was returning to overseas duty within days. He also promised not to create any "embarrassing" situations. The principal was either sympathetic or perhaps just patriotic, and he bent the rules to let my mom finish her senior year and graduate from high school.
Flash in the pan romances do not statistically fare well in the longevity department, but this one lasted for 53 years. Dad passed away just four days after their 53rd anniversary. He died in his sleep of complications from emphysema.
So there you have it. You now also know why our family tree is so interesting. Mom and Dad were second cousins.
Editor's note: The second cousin relationship in the case of Sanford's parents does not involve a Uberstine. Seymour Kaplan and Marilyn Sless shared a grandparent, one from the Kaplan side and the other, from the Sless side.

Us Uberstines do have other second cousin relationships, both involving children of Harris's sister, Toby Uberstine Cohen.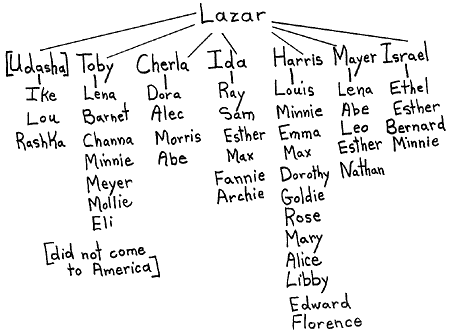 Toby's son, Meyer Cohen (it became Caine) married Lena Uberstine, daughter of Harris's brother, Mayer Uberstine.

Toby's daughter, Minnie Cohen, married Lou Gelman, a son of Harris's sister, Udasha Uberstine Gelman.
"My father remembered her from Europe," said their daughter, Shirley Gelman Hausman. She explained that is why her father didn't go home to Greenwood, Mississippi, after returning from World War I. Instead, he headed for New York City, and "looked up" her mother.

Romantic, yes, but not quite as dramatic as our Ohio love story above.
Also of interest in the cousinship department is the nomenclature for descendants of the Ohio Uberstine sisters, Rose and Goldie, who married the Daniels brothers, Charles and Oscar. That made their children double cousins, and their children's children, double cousins once removed.