Symbols near Dukla indicate "major cemeteries" and "outstanding synagogues" according to the map's legend. The large yellow stars signify major ghettos from World War II. Symbols near Krakow, Auschwitz-Birkenau to its west and Plaszow to its south, indicate sites of Nazi death camps and major concentration camps.
Dukla became part of the Austro-Hungarian Empire at the same time as Krakow, in 1795 on the Third Partition of Poland. At the Congress of Vienna, in 1815, the region became a protectorate of Russia, Prussia and Austria. In 1846, the year Franz Joseph ascended to the throne, it became part of Austria, and it remained Austrian until 1919, three years after Franz Joseph's death, when it reverted to Poland.
The Emperor wore clothes
"My mother always spoke well of Franz Joseph and the Hapsburgs," said Ruth, who married Morris Rubenstein's second oldest son, Arthur. Ruth's mother had a sister, Netti, whose husband was also a tailor. Among his clients was the Duke of Galicia, according to Netti's grandson, Edwin Beer of Little Neck, NY. Edwin told me that the Jews appreciated Franz Joseph because of his zero tolerance for pogroms. "Every time a pogrom started, he would clamp down on the perpetrators," Edwin said.
Flowers in his path
Because Dukla was situated at the foot of one of the two passes over the Carpathian Mountains, it was of strategic importance. Military exercises were held there periodically, Edwin said. His mother told him that when Franz Joseph came to Dukla to review military maneuvers, young school girls would be marshaled to strew flowers in the path of his carriage.
Franz Joseph came to the house
Ruth remembers her mother saying that Franz Joseph had always been friendly toward her and her four sisters and brother. "He must have been to the house," she said. "I remember her telling me that everyone in the town came to look when he was there, so he probably came by horse-drawn carriage." Ruth's mother was 29 years old when she arrived in America in 1907 with her husband, Max Rubel.
Lida: Tess Deich
Morris Rubenstein's daughter-in-law, Tess Deich (also my mother), traces her maternal roots to Lida Vilna. I was 10 years old in 1952 when I asked her mother, Fanny Poliaczek Deich, where she grew up. Lida is now in Belarus. Fanny's parents ran a feed store. Their surname was like "Smith" in those parts. When Fanny, then Feige, left for Glasgow and New York City, Lida was in the Vilna "gubernia" of the Pale of Settlement. Vilnius, the capital of Lithuania, was also called Vilna.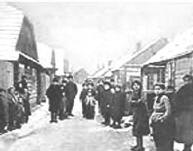 Below, left, a wintertime view of a street in the Jewish section of Lida. Directly below, the coat of arms associated with the City of Lida.

Before the breakup of the Dukedom of Lithuania and Poland, a coat of arms was associated with a number of towns that were to become the homes of the ancestors of people in our extended families. (During the period of Russian domination, the Czar's coat of arms occupied the top half, and the rest of the design was pushed down to the bottom half.)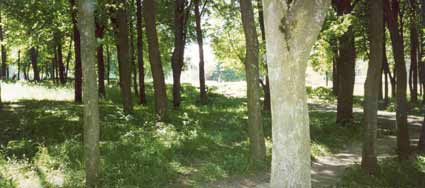 Almost nothing is to be found of the Jewish community from the pre-World War II era. Even the Jewish cemetery is gone, replaced with a park. Lida is 68.1 miles WSW of Gorodok.
Tarnow: Max Sollender
The future son-in-law of Ethel Varonok decided after his Bar Mitzvah to seek a different kind of life for himself than the one he foresaw were he to remain in Tarnow, a town 45 miles east of Krakow. His story is the first individual biographical feature composed for our family web page because of the important role he played in our family. He put our Depression-era generation (and later generations) through school with jobs at his newsstand. For decades, he took care of the grocery bills for his mother-in-law, enabling her to entertain large groups of family members every weekend.
Brest-Litovsk: Esther Simon
Morris Rubenstein's in-laws, his wife-to-be, Esther, and her siblings came to America in 1887 from Brest-Litovsk, also called Brisk, a town on the border between Poland and Belarus. Situated about 110 miles east of Warsaw and originally Polish, Brest-Litovsk was taken by Russia during World War I, and the peace treaty ending hostilities was signed there in 1918. Brest-Litovsk became part of the Republic of Poland established in 1921, but it was captured by the Germans in 1941 and then retaken by the Russians in 1944. Brest-Litovsk is now in Belarus.
---
Vilna: Jerusalem of the North
By 1897, 45% of the population of Vilna was Jewish, according to Daniel Soyer, author of Jewish Immigrant Associations and American Identity in New York, 1880- 1939" (Harvard University Press, 1997). Soyer worked as an archivist at YIVO while researching his doctoral thesis, which became his book. He gives credit for that statistic to an article by Jacob Lestchinsky, The Jews in the Cities of the Polish Republic, published in 1946 in YIVO's Annual of Jewish Social Science.
Vilna had become, during Poland-Lithuania's golden age, the center of Jewish learning, culture and the arts. It earned the nickname of "The Jerusalem of the North." The Yiddish Institute for Jewish Research (YIVO) was born and flourished there until 1927 when it was moved to New York City. Now it makes its home in the new Center for Jewish History, 15 West 16th St., near many bus lines and all subways. The Uberstines are represented in YIVO's genealogical collection by CousinsPlus's contribution, which any visitor can view on request in the Center's Reading Room.