The 'fragile and the very sick'

Sandi put together a list, and then she spoke to the shabbaton advisers to make sure nobody was left out. She was afraid of missing somebody who had gotten too sick to come to the shabbaton, or was too fragile to endure the entire event, which starts Friday night and ends Sunday morning.

Neighbors offer furniture

When word got out, the neighbors started calling to ask if they needed more tables and chairs. Then there was a summons from the "embittered neighbor whom one did not relish being told to go see," said Sandi. "I expected him to warn us that we 'better not be noisy' or step on his plants, but he handed me a $10 bill and said, 'Go get the ice cream; I hear these kids have problems.' "

Wheelchair parade

When it came time for the party, cars began to arrive at the house. "The parents brought their children in their wheelchairs," said her brother, Douglas. He was in a fragile state himself at the time, still recuperating from a hip fracture suffered on the basketball court.

The father in the car

Guests partook of the ice cream and enjoyed the watermelon boat created for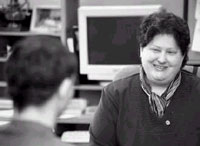 the occasion by Sandi's father, Larry Isaacson. When he went out with the trash, he noticed the father of one of the guests was sitting in his car, discreetly parked a couple of houses down the street.
Spinal bifida girl's first party
The man said that his daughter did go to shabbaton, but she had "never been to a party." He was content to wait in the car, because he didn't want to embarrass her. They had driven from their home in Brooklyn all the way to Plainview, Long Island, which is "on the line between Nassau and Suffolk County," Sandi said. Her parents spirited the father upstairs, and there, they all had coffee together.

---

back to the main story