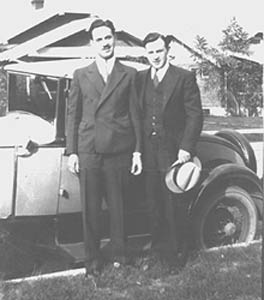 Archie Faberman, left, with brother Max
On the occasion of Archie Faberman's 90th birthday celebration during the summer of 1998, his son, Ira Faberman, provided this photograph.

In response to my inquiry about the provenance of the car, Harris Faberman, Max's son, wrote:

"If the car is a Ford, which I think it is, it is a Model "A," not a Model "T."
Model T's never had wire wheels or such body sculpting.

"Model A's were produced from 1928 to 1932, and this is an early one, from '28 or '29. If the car is new, my father would have been 25 or 26, and Archie is six or so years younger.

"I do not believe that this is a roadster; I think it's a convertible coupe, with a rumble seat," concluded Harris, who has been a car buff all his life.

The photo left, was taken in 1962 or '63 by my father, Lawrence Rogers, while Harris admired a "find" in the garage of our next door neighbor, Earl Aachatz, a car painter whose hobby was also cars.