Ethel, Usher's only daughter to come to America, entertained at home less often after the Family Circle began. Below, husband, Harry Varonok, close to smiling.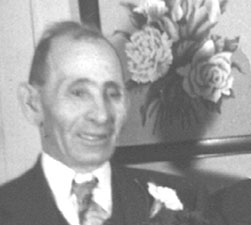 'Shifting demographics'
Morris was right in step with the times. "The 'family circle' was a new type of society," and the result of "shifting demographics," writes Daniel Soyer in "Jewish Immigrant Associations and American Identity in New York, 1880-1939." The family circle consisted of "male and female descendants (and their spouses) of a common ancestor [ours are the Uberstein brothers, Usher and Aaron]."
Mishpokhe study
The family circle provided "a structured opportunity for family members to get together in each other's homes or in public halls," and in 1939, 166 family circles were "identified" by the WPA Yiddish Writers' Project, according to Soyer. His social history, published in 1997 by Harvard University Press, won its annual prize for "best first book." In a footnote, Soyer quotes "Mishpokhe: A Study of New York City Jewish Family Clubs."
Cousins' clubs
The study notes "a related form, the cousins' club," which consisted of "a group of first cousins and their descendants." We may never know whether the Yiddish Writers' Project counted in its total Morris' Family Circle, which was very much in existence in 1939. The Family Circle certainly attracted cousins galore.
The entire Karben clan attended Family Circle meetings. Parents Carl and Dora, above left, are shown on a summer outing. Center, Dora's youngest brother, Jack Rubenstein, would attend with his wife, Helen, and sons, Alvin and Robert. Family Circle members never had an opportunity to use the elegant marble stairs (far right), as their meeting room was on the main floor at the back of the lobby. It had a small kitchen, used for making coffee to go with the cake and the cookies provided by the five families appointed at the previous gathering.