An article about our organization
Needed services plus special extras make ARC*
mecca for neighborhood elderly

By Susan Rogers
LegacyWorkshops.org
Thursday 29 June 2006
A frail senior paused to beam at an onlooker as she gingerly stepped out of the van on West 174th Street, leaning on an arm of the caring driver, who couldn't help grinning himself. That housebound senior would not be going out for her lunch and some mid-day socializing if it weren't for this transportation program, one of the most cherished services the ARC XVI Fort Washington Senior Center offers its Upper Manhattan constituency. In fact, its administration of that program won such high marks that ARC now oversees an expanded service for the South Bronx.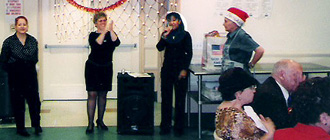 Volunteers are honored at the ARC Senior Center Christmas party, typically
attended by around 200 seniors, about 30 more than come for the daily lunch.
"They like what we do here," said Executive Director Fern Hertzberg, referring both to the transportation contracts' evaluators and to the powers that be at New York City's Department For The Aging. Her leadership has helped turn the senior center organization she heads into one of the most highly acclaimed in New York City, offering a spectrum of needed services for her primarily Hispanic membership of about 2,500 (in 2006). She oversees a full-time staff of 18, a part time staff of 6, and a cadre of volunteers, almost all of whom are bi-lingual in Spanish and English.

Page 1 of 3
---
*ARC: The Whole Name

ARC XVI Fort Washington, Inc.

ARC Senior Center, ARC Adult Day Center & WHIST
Washington Heights Inwood Seniors Transportation

ARC stands for
Action for the Retirement Community,
an information and referral program founded in 1970.

XVI refers to Title XVI of the Social Security Act of 1971, providing for the development of senior centers.